Til Oil
Sesame oil is a storehouse of nutrients. It contains antioxidants, healthy fats, vitamin E, omega-3, 6, 9 fatty acids, as well as active compounds called phytosterols, lignans, sesamol and sesaminol, which are known to be very effective in fighting free-radicals. Massaging with sesame oil improves blood circulation, due to which nutrition reaches the breasts in a better way. This helps in the development of breasts.
Cow milk
Cow's milk is a rich source of essential nutrients that can contribute to overall health, including breast health. Its milk is a source of high-quality protein, which is necessary for tissue repair and maintaining muscle mass.

Ashwagandha
It has the ability to regulate the synthesis of female hormones in the body. A smaller breast size is often a symptom of a thyroid disorder, which may also manifest as menstrual problems and an inability to conceive. Ashwagandha can help to relieve the other complaints associated with thyroid diseases such as irregular menses, and infertility.
Shatavari
In Ayurveda, asparagus has been described as very beneficial for women. Asparagus is full of medicinal properties. Asparagus is effective in removing problems related to women. If you want to increase breast size, then asparagus can be beneficial for this. Asparagus stimulates the mammary glands, helping to increase its size.

Kushtha
Kushta herbs in Ayurveda are believed to offer various benefits for women. They may promote hormonal balance, support menstrual health, and improve reproductive well-being. These herbs could aid in digestion and immune support, contributing to overall health. Additionally, certain Kushta herbs might help enhance skin health.
Jatamansi
This Ayurvedic herb helps promote sleep by reducing stress and also provides many health benefits. Due to which women are helped in getting good and deep sleep. It helps in their full body development. Also the development of breasts also increases the chances of assistance.

Bhatkatiya
Bhaktaya can provide relief in the problem of sagging breasts in women. Using the root of this herb in the manufacture of oil helps to harden the bast. Along with this, there is a possibility of getting benefits in other health problems as well.

Van Bhanta
Van Bhanta is believed to possess analgesic properties, which may help alleviate pain and discomfort. Digestive Disorders: Brihati is used in Ayurveda to improve digestion and alleviate digestive disorders.
Direction to use: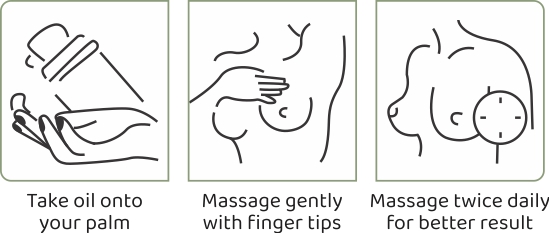 Question & Answer
| | |
| --- | --- |
| Brand | Kaahan Ayurveda |
| Quantity | 60ml |
| Form | Oil |
| Container | Plastic bottle |
| Pack | 1 |
| Shelf life | 36 month |
| Food preference | Vegetarian |